Travel Series – Magnificent Moab
I once interviewed Donald Trump – before he was the U.S. President. One of the questions I asked him was if he had a bucket list. He looked at me perplexed, as if he didn't understand the term. I guess when you're Donald Trump, a bucket list is kind of an obscure term since he's done pretty much everything! 
One thing that has always been on my bucket list, however, was a trip to Moab, Utah., For my birthday, we recently did just that! It was an amazing trip with stunning scenery and was definitely worth topping the list. From our home in Denver, Moab is about a 5.5-hour driving trip. With the realities of COVID-19 and travel guidelines, we thought driving would definitely be the best bet. We chose the Sorrel River Ranch Resort & Spa as our lodging option, and it was…EPIC! 
While the resort dubs itself as a 5-star hotel, I would say it's probably more like a 3-star luxury dude-ranch type of hotel with an incredible setting. The red mesas and mountains coupled with the Colorado River made for truly incredible views everywhere you turn. We booked a River Family suite, which had a king bed and bathroom downstairs, two queen beds and a bathroom upstairs, rustic décor with a kitchen and was situated just steps from the Colorado River. The front porch had a porch swing perfect for enjoying a glass of wine and watching the sunset or roasting nightly s'mores available for free in the lobby. The resort restaurant had plenty of outdoor dining with fabulous waterfront views, great food and awesome customer service.
Only having one full day here, we had to plan wisely. We woke early to head out to hike the Delicate Arch inside Arches National State Park and left the resort at 7 a.m. It was about a 30-minute drive to the park, and it was a good thing we left early – since it was HOT! Like 105 degrees hot, but a cool 90 when we arrived. It was one of the absolute coolest hikes I have ever done. Our group consisted of my pickleball-playing parents, both in their early 70's, my athletic 12-year-old and 14-year-old, me and my husband – both pretty athletic. This hike kicked our butts! But in a good way.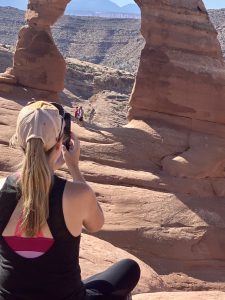 The 3-mile roundtrip trek to the arch was filled with such diverse terrain. From the flat dusty trail beginning to steep inclines on slick rock faces to the mountain hugging narrow trail at the end, this hike was challenging yet amazing in every way. The payoff at the end is the otherworldly looking delicate arch towering high above the ground beckoning adventure seekers to walk down inside for a photo op. I decided to be the photog for this opportunity and let my crazy kids and husband walk all the way down inside. After the strenuous trek that took us about 3 hours out and back, we opted for a hearty lunch instead of exploring the rest of park, which could take a full two days! 
We found a great lunch spot in downtown Moab called Gloria's Corner Café, plus lots of cute little shops to browse through. I also highly recommended Pasta Jay's, which we hit for dinner and Moab Roasters for delicious gelato.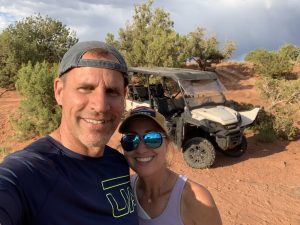 Later that day, we took a lazy floating tube trip down the Colorado River with Canyonlands by Night and Day and then booked the 2-hour UTV ride with a Sorrel River Ranch guide through the Onion Creek Trail. The Mars-like terrain was bumpy, dusty and full of creeks to barrel through for a nice splashy cool down! 
Things we did not expect on this trip were the bats that came out at night, the bugs that we don't really have in Denver and the incredible starry nights available for viewing since you are really in the middle of nowhere. The parks here are one of the few places in the U.S. designated as International Dark Sky Parks – meaning you can get amazing views of the constellations and the Milky Way. We never saw the Milky Way but did get a great shot of the comet Neowise nightly and plenty of shooting stars.
What's on your bucket list?