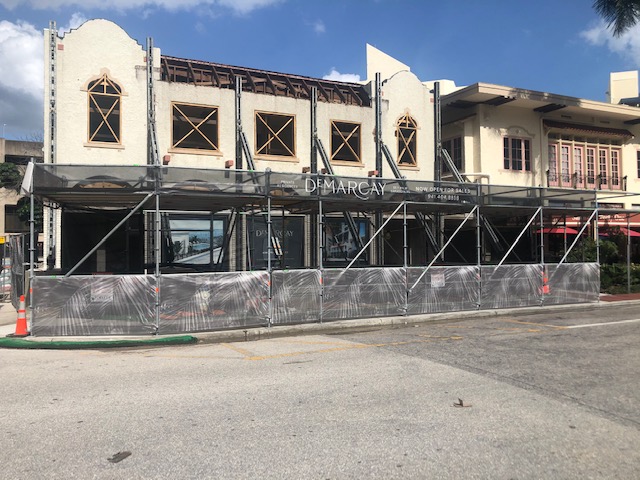 The Deadmen at The DeMarcay
It's not a trick but a treat you may find this Halloween at The DeMarcay, an 18-story residential condominium project, going up on Palm Avenue in Sarasota. And no, there aren't any literal dead men there, but in terms of construction, there certainly are!
Over the past 100 years, Sarasota has changed a lot. In fact, if you look at old photos of Main Street or Palm Avenue, it's likely you wouldn't even recognize them. There is one piece of history, however, that has stood the test of time for a century and will continue to stand as a legacy to its past – thanks to the team behind the luxury residences.
"Saving the façade of the old hotel is saving a character-defining feature of the city," says preservation expert Jeffrey Baker of Mesick Cohen Wilson Baker Architects. "Even though it's a growing, thriving place, there is a recognition that the past has a grip on us that we don't want to lose. Herculean efforts are being made to maintain that sense of place and connection to the past."
Because the old building itself is partially holding the façade up and in place, before taking the building down, the construction team has to complete a process called shoring. This method will help stabilize the façade with bracing, plates and a few concrete deadmen.
Shoring involves angled braces that extend to the sidewalk, pouring deadmen (giant weights that attach the angle bracing on one end) into the ground and fasten to the facade. The bracing will remain in place until the new building goes up behind the façade and can be connected to it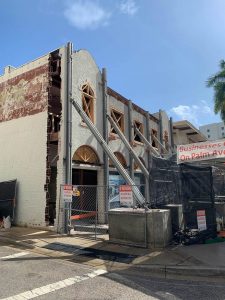 "It's a best practice, if possible, to preserve a façade rather than take it apart and recreate it since doing do diminishes some of its value as a historical piece," says Greg Kveton of GK Real Estate, the project's developer. "We've always wanted to preserve the hotel façade in place and restore it to its former glory when it was originally constructed."
Over the years, the façade's mortar joints between the terracotta tiles and the window lentils have been deteriorated by weather, eaten by termites or decayed.
"It was so brittle. Our team had to reevaluate and bolster the shoring design since we were very concerned it was going to come apart," Greg says.
In addition, the facade itself is made out of material that would never be used in modern-day architecture," says Jeff. "Terracotta was fairly cheap a 100 years ago compared to brick. It's hollow, more light weight and easier to use and shift. It's intended to have stucco over it and plaster on its interior. "But when you have a building this old in this climate, the window frames rot and the surrounding brick breaks away."
Passersby will now notice wood framing in the windows to support the brick and a lengthy preservation process is nearing completion on the site, paving the way for building demolition and vertical construction.
"When you think of preserving a façade, you think of the architectural details people will see," Greg says. "We are constantly updating and tweaking our plan based on what we find and the unexpected things that we uncover. We've had to go back more than once and make changes to our structural reinforcement design – that's the complexity of it. These construction steps are things that no one will ever see, but it's a huge part of an intricate process."
The existing window frames and block will be replaced, the fasteners will be renewed with stainless steel and the stucco will be repaired with a new fiberglass-reinforced material. After that, spray-on shotcretewill be applied to the back of the façade to stabilize it permanently.
Under the façade, there are 100-year-old footings that have been supporting it. The footings are just below grade – four inches under the sidewalk and about 14 inches deep. The engineering team designed a structural foundation system for support and needed to verify if the existing footers had structural steel in them. To solve that mystery, the team utilized sonar ultrasounds to probe the footers without cutting them to find out if there was rebar underground. It turns out there was not, which is not uncommon for that period.
Due to this discovery, new foundations will go in under the old foundations. That enormous undertaking will start by stabilizing the soil and injecting a liquid stiffening product and chemical grouting to help solidify the soil under the existing footings. An extensive additional foundation designed specifically to support the existing footings is planned underneath.
"Every restoration project is different," says Jeff. "We do stabilization all the time, but every project has its own challenges. This one is very unique in that we are saving the façade and what it's made out of. In that sense it's exciting and challenging, but it's also taxing. We come at it with a philosophy of solving each individual problem with a step-by-step approach with the shoring company, structural engineers and the construction company that works for everyone."
Currently on site, the deadmen have been poured and the shoring is complete. Over the next couple of months, the actual demolition of the building behind the façade will begin. But don't expect to see a crane, wrecking ball or any type of explosion on site. "When actual demolition begins, it has to be done slowly, piece by piece because the façade is so delicate," says Greg.
Old ceiling tiles and wood flooring have been removed from the old hotel and will be used in the future condo's lobby and rooftop amenity area while some of the original doors and windows will be utilized decoratively in other areas of the building.
"It's going to be like taking apart a very delicate piece of furniture," Greg says. "We have to make sure everything aligns sequentially from the floor and roof framing to the joists in a manner that maintains the structural capability of the façade we are trying to save. It's a bit like taking apart a building made with dominos."
After demolition, foundation work will begin on the new building in January 2021
To learn more about The DeMarcay, call 941-404-8858 or visit TheDeMarcay.com.