Public Relations and Marketing: What's the Difference?
"You work in public relations, right? So, marketing?"
If you've worked in the public relations realm for any amount of time or know someone that works in the industry, you've undoubtedly had this conversation. And while most are under the impression that marketing and public relations are the same, the premise couldn't be further from the truth.
So, what exactly is the difference? Marketing is generally defined as the action or business of promoting and selling products or services, including market research and advertising. In contrast, public relations is defined as the professional maintenance of a favorable public image by a company or other organization.
As a full-service public relations firm, One Eight Oh handles tasks like public relations strategy, press writing and social media management for a diverse group of clients, as well as media training, messaging and internal and external communications. Tasks may include press release writing, blogging, strategic planning, creating social media content and drafting op-eds., among others.
Here are some examples of key differences between these niche professions:
Marketing agencies: Create and buy ads for television, magazines or newspapers.
PR agencies: Pitch your story to journalists for free stories on television and in magazines or newspapers.
Marketing agencies: Write advertising copy to promote your brand.
PR agencies: Craft consistent, compelling content to be communicated across all of your channels.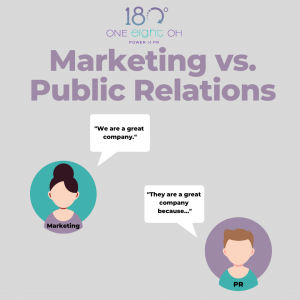 Marketing agencies: Paid content.
PR agencies: Earned content through press releases and media relationships.
Let's dive into this a little deeper. Marketing and public relations both support the end result of brand recognition and sales. However, both sectors achieve their results in different ways. 
A marketing agency routinely uses research to determine the behavior of their target consumers and to confirm that their behavior aligns with the advertising campaign. They are working to increase sales rather quickly, and typically, their buyers are their main audience. Most of their day-to-day activities are short-term and their influence is generally temporary.
On the other hand, a public relations agency is consistently working to create awareness among the public as well as the media. They focus on a very diverse audience to produce a longer-lasting influence and participate in long-term activities to build an image.
Arguably, many firms operate under one umbrella and offer all services listed above. However, we've seen more success when companies focus on one niche rather than trying to do it all. 
When determining what your organization needs, take a look at what your goals are. Are you looking to develop a new logo, an advertising campaign and paid ads? You'll probably want to work with a marketing agency. However, if you're looking to build a positive image for your brand and tell your story through press releases, social media, video and an online presence, then a public relations firm would probably be a better fit.
In today's media landscape, an organization should definitely have a public relations and marketing strategy to be the most successful. However, if you've decided that public relations is what your organization would benefit the most from right now, don't hesitate to contact the One Eight Oh team to discuss your next steps. After all, we live, breathe and dream about messaging!