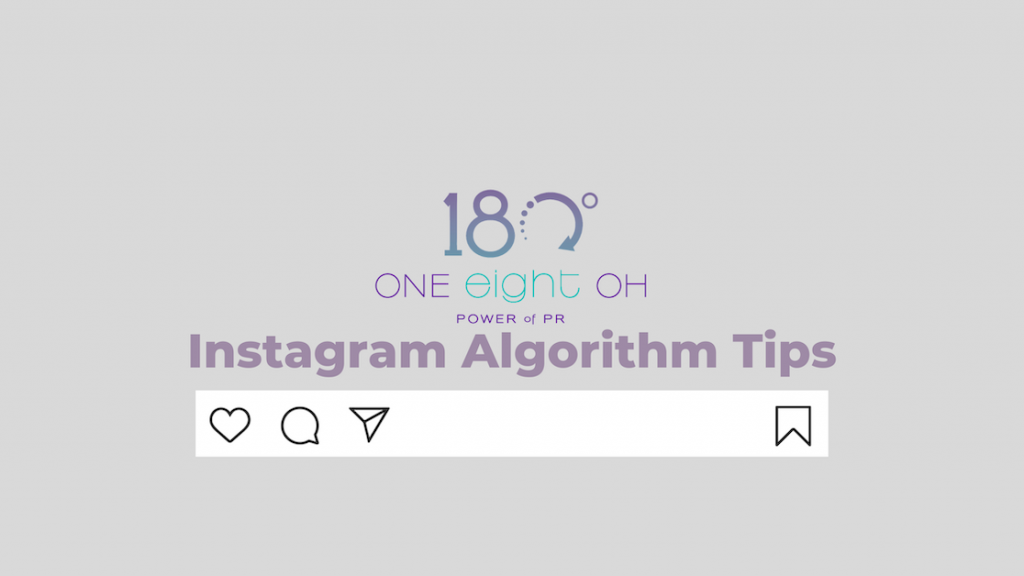 Instagram Algorithm: What You Need to Know
If you've noticed a drop in your engagement levels on Instagram lately, you're not alone! Small business owners, bloggers, social media managers — basically anyone that has an Instagram account — has noticed the change and it's all thanks to the updated algorithm.
Instagram is consistently making tweaks to their algorithm, and it can be frustrating to constantly learn and adapt to a new plan to get your posts seen by as many people as possible. Kate De Michieli, PR and Social Media Coordinator at One Eight Oh PR, has compiled some strategies you can start incorporating into your Instagram routine to get your posts back on track. 
If you're more of a visual person, you can also watch our recent IGTV that covers the following tips.
Saved Posts
Remember when Instagram was all about the number of likes you got on a post? As of September 2020, the most important thing you should focus on is getting people to save your post. When someone saves your post, Instagram views it as something important or relevant. As more and more people save the post and show interest, Instagram features the post more so others can engage with it as well. Create content that is useful to others and information viewers would want to reference for the future to help get your posts noticed.
Comments
In our opinion, this is one of the easiest ways to increase engagement on your posts. Your post is more likely to be seen when people comment on it, especially right after it has been posted. Make sure you're always including a question in your caption that can be answered in detail rather than a yes-or-no question and always respond to your comments to further increase engagement. 
Share + Send Posts
Sending a post is a lot like saving a post. When someone shares your post to their own Instagram story or sends it to their friends via a direct message, it helps get more eyes on it. Think about it this way: You share a motivational quote from an Instagram account on your story, then all your followers that viewed your story have now seen it even if they didn't follow the original account that posted it. If they liked the quote or are interested in similar content, they might go follow the original page or at least check out more posts from that account. Again, you'll want to create content that a majority of people will be interested in.
Likes
While there was chatter earlier this year about Instagram removing likes on posts, the feature is here to stay for now. The number of likes on a post is still essential for internal insights and also helps to push your post out to the Instagram world, just not as much as before. Encourage your followers to like your posts by occasionally stating something like, "Give this post a like if you agree!"
While the Instagram algorithm will undoubtedly change again, we hope these tips help you combat the current challenge of decreased engagement! If you're still struggling with increasing engagement, don't hesitate to contact the One Eight Oh team for some guidance!